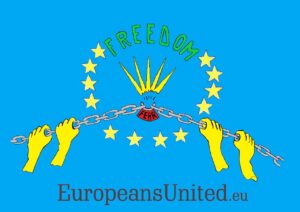 Welcome to the official website for the big European demonstration on May 29, at 3 pm in Brussels, Belgium!
For too long, our governments have been taking unlawful and disproportional measures that restrict our freedom. With the excuse of a worldwide pandemic, they propose law after law without any regards to human rights or constitutions. This is bringing all European countries on the brink of dictatorship. The worst disease we imported from China was not the virus, but totalitarianism.
Enough is enough. Europeans are making a stand and uniting against tyranny by protesting peacefully on 29 May in Brussels. You can find a list of participating countries on this website.
UNITED WE STAND!
Do you want to be a member of the biggest European movement for freedom and democracy ever? Join EuropeansUnited.eu. You can be part of history, and make this effort last. Not only for yourself, but also for your children and future generations.
If you are an organisation based in Europe, large or small, and want to join, please email us at team@europeansunited.eu . We will respond as quickly as possible.
Join us on Telegram: https://t.me/joinchat/zjsgN1uL8ztiYmM0 . You can install Telegram on your mobile phone or your desktop then click the link to get the latest updates live!
Follow us on Facebook: https://www.facebook.com/EuropeansUnited-104561348413231/