18 September: Fusion Freedom Festival 🥳
12 Hengelhoef, Houthalen

In September, EuropeansUnited will focus on helping the Fusion Freedom Festival. This is a free festival with workshops and animation, where organisations for democracy from all over Europe can introduce themselves to the public with gentle music in the background. The idea is to bring both existing and emerging initiatives closer to the people. For people further away, there is accommodation available.
Almost every region in Europe has its own groups of people working hard to organise actions that promote democracy and human rights, but it's often hard to reach the people, as censorship has become a reality during the pandemic. Fusion wants to offer those initiatives, however small, a free platform to make themselves known and grow. This way democracy and human rights will be promoted bottom-up in our societies.
Telegramchannel:
https://t.me/R6BkLhRAxHpkNzM0
Facebookevent:
https://fb.me/e/eBOREk2Uw
Website:
https://www.fusionfestival.be
Email:
info@fusionfestival.be
22 Oktober: Demonstration For Democracy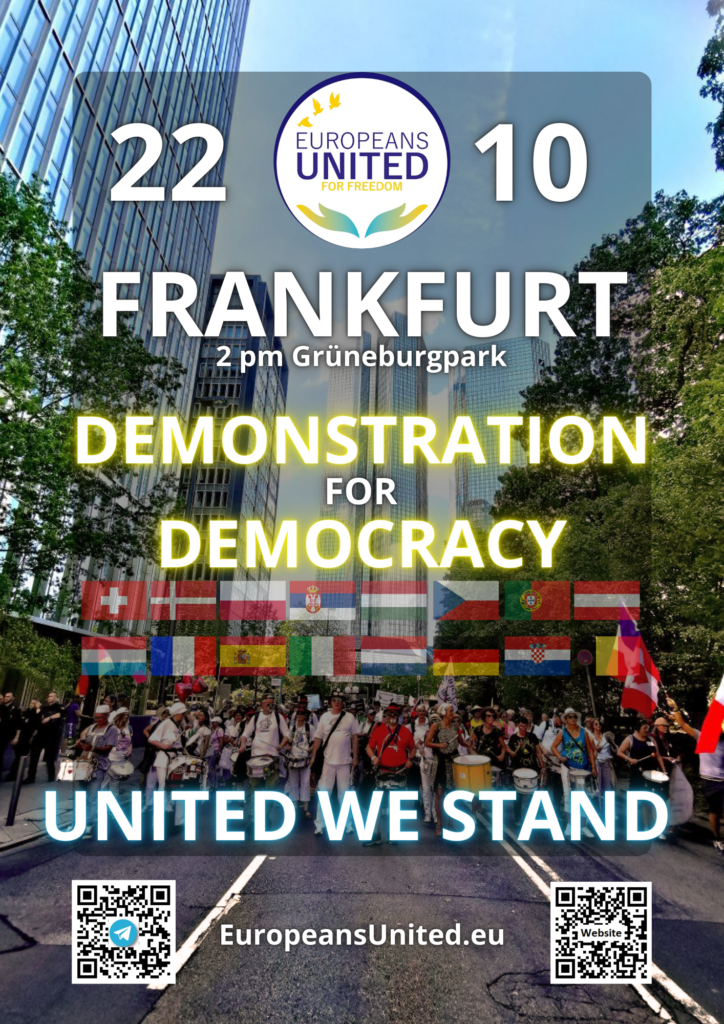 Om updates te ontvangen:
Word Member: https://www.europeansunited.eu/nl-be/lidmaatschap2/
Volg ons op Telegram: https://t.me/EuropeansUnitedNLVL
Abboneer je op ons YouTube kanaal: https://www.youtube.com/europeansunited
United We Stand
Video van ons YouTube kanaal over de WHO
Een video van onze demonstratie op 29 mei in Brussel (Duits):
Een video van onze demonstratie op 11 september in Brussel:
Volg ons op Facebook, op Telegram en op YouTube voor de meest recente updates.
Ben je een organisatie in Europa, klein of groot, en wil je met ons samenwerken , stuur dan een mail naar info@europeansunited.eu. We nemen zo snel mogelijk contact met je op.